Geraldine Butler - Become the Butterfly
May 1 - 30, 2015 (front gallery)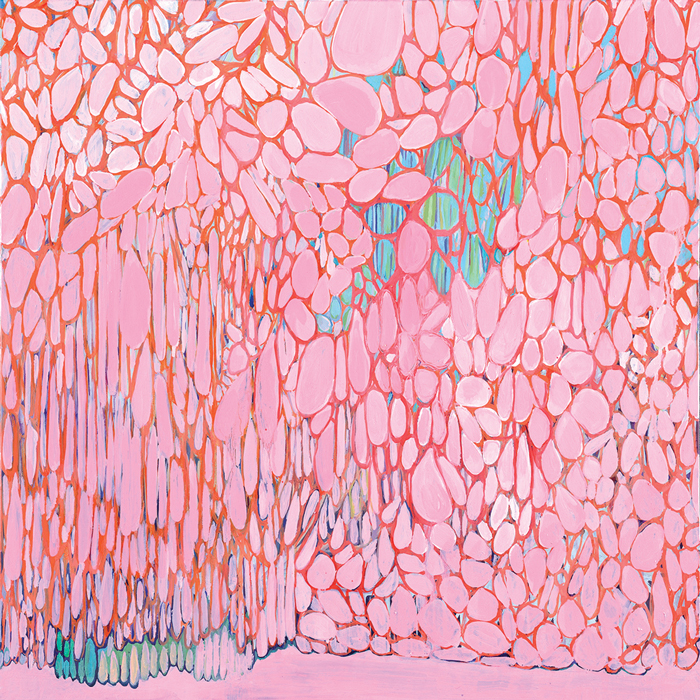 STATEMENT :: Become the Butterfly
My paintings undergo an incredible amount of change and transformation until they arrive at their finished state.
This serves as a metaphor for life, its various stages and change in general. Change is inevitable and a constant. But transformation takes this concept of change even further making it the vehicle through which one thing evolves and develops into something else.
The butterfly is the highest state of the caterpillar and what it was meant to be. In a similar way, my paintings have a state at which point they have arrived at their full potential. Many could continue to be developed even further, and continue to transform, but the change they undergo is not indefinite or without purpose. I, as the artist, develop them until they have arrived at such state in which they feel complete...until they have "become the butterfly".
I have always been inspired by the light and atmospheric conditions of the landscape and find the color combinations in nature to be breathtaking. Nature has a way of being playful and suggestive in the way it presents us visual information, and this is something I try to incorporate into my work through purposeful ambiguity and by including unexpected elements. It's these moments that make us have an emotional response, and it's this emotional response to my environment, which inspires me to paint and which I try to elicit through my work.
Color is an important element of my work, which is a direct influence from my environment. But I am also interested in the horizontal and vertical breakdown of the landscape into bands and lines of color, and the patterns this creates. Just as in nature, I present, reveal, and conceal visual information through the addition and subtraction of layers. And although my paintings have a strong connection to the landscape, they do not depict any specific places. They go in and out of abstraction and representation making the two one and the same.
- Geraldine
About Geraldine Butler
Born in 1978, Geraldine Butler was raised in an artistic community of Southern Spain where she was exposed to the arts and studio life at an early age. Butler then moved to Maryland in 1991 and attended the Baltimore School for the Arts. She received her BFA from the Maryland Institute College of Art in 2000. While there she was awarded a semester of independent study at the Institute for American Universities, Center of Art & Culture in Aix-en-Provence, France. There, she continued to explore color and the effects of light on the landscape while simultaneously exploring the abstract elements of her work. Butler's paintings have evolved into abstract imagery landscapes that create a world of their own.
Geraldine is a full-time painter, mother of three, and part-time teaching artist in the Bright StARTS program through the Baltimore Office of Promotion & the Arts. In November, she will begin a two-year residency as part of the new Motor House studios in Station North.
Butler has shown at The Creative Alliance in Baltimore, The Jacksonville Center for the Arts in Virginia, The Mighty Tieton Warehouse in Tieton, WA and The Gallery at the Watershed, Eugene, Oregon and various other galleries throughout the country. She was in the first group of artists that participated in the Inaugural Thrive Program & Exhibition. This is her first solo exhibition at Jordan Faye Contemporary.